Tiếng Anh - Writing a letter
The words and expressions below are often used by native speakers when writing to friends and relatives. Using them will help you write in an informal style and will also help you organise your letter into clear paragraphs.
Starting your letter (Paragraph 1)
Thanks for your letter.
Lovely to hear from you.
How are you?
How are things?
Hope you're well.
Commenting on something (Paragraph 1)
I'm sorry to hear/learn .
I'm so pleased to hear .
It's great to hear .
What wonderful news about .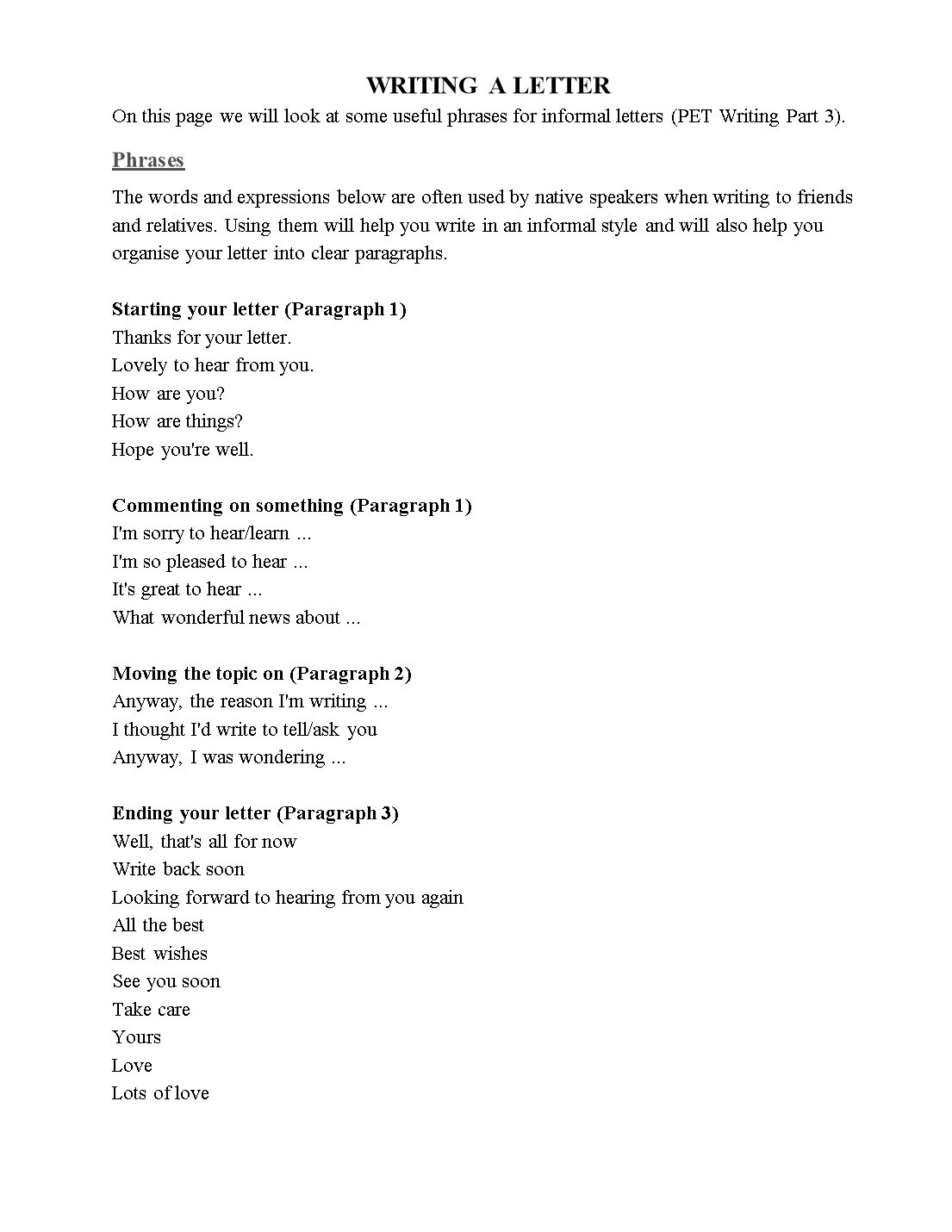 Trang 1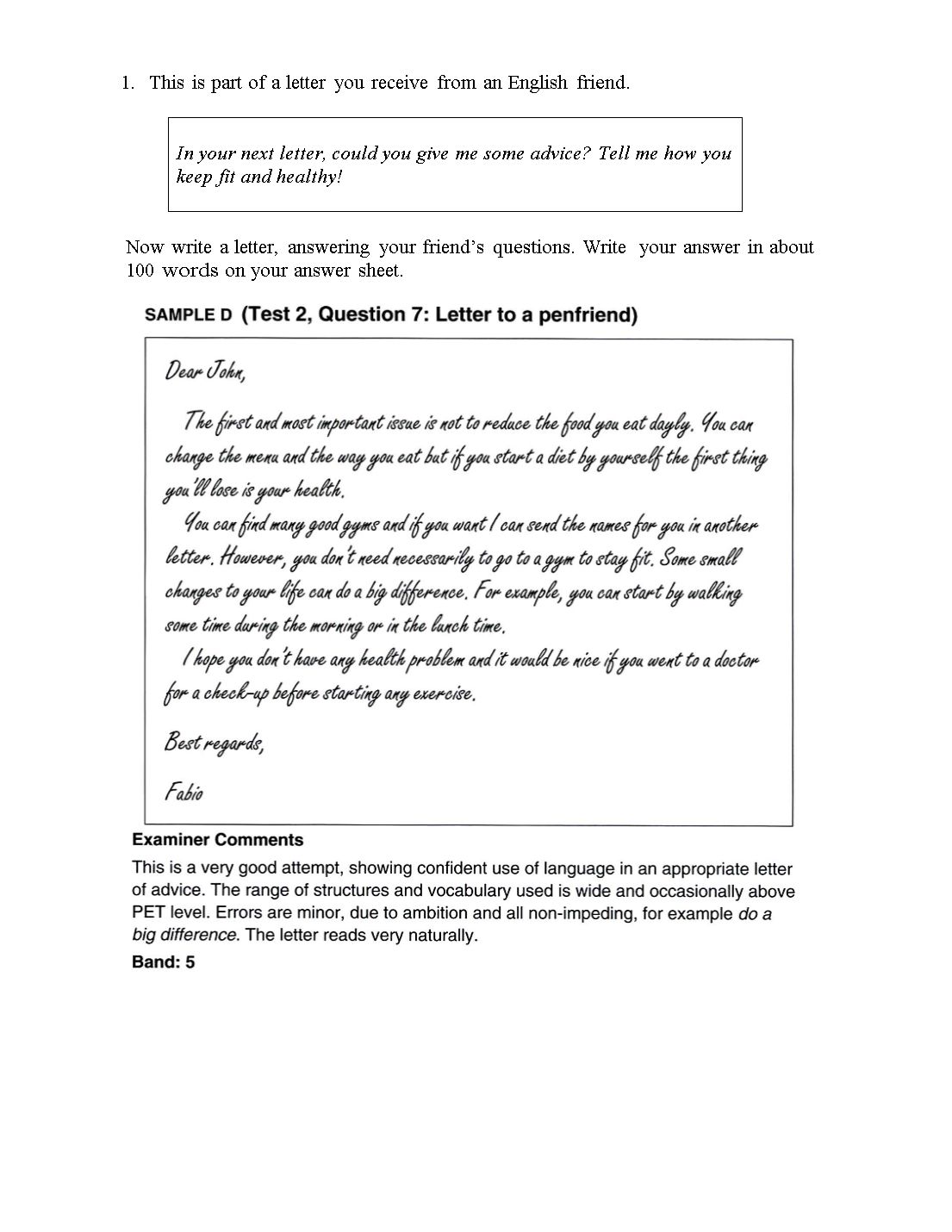 Trang 2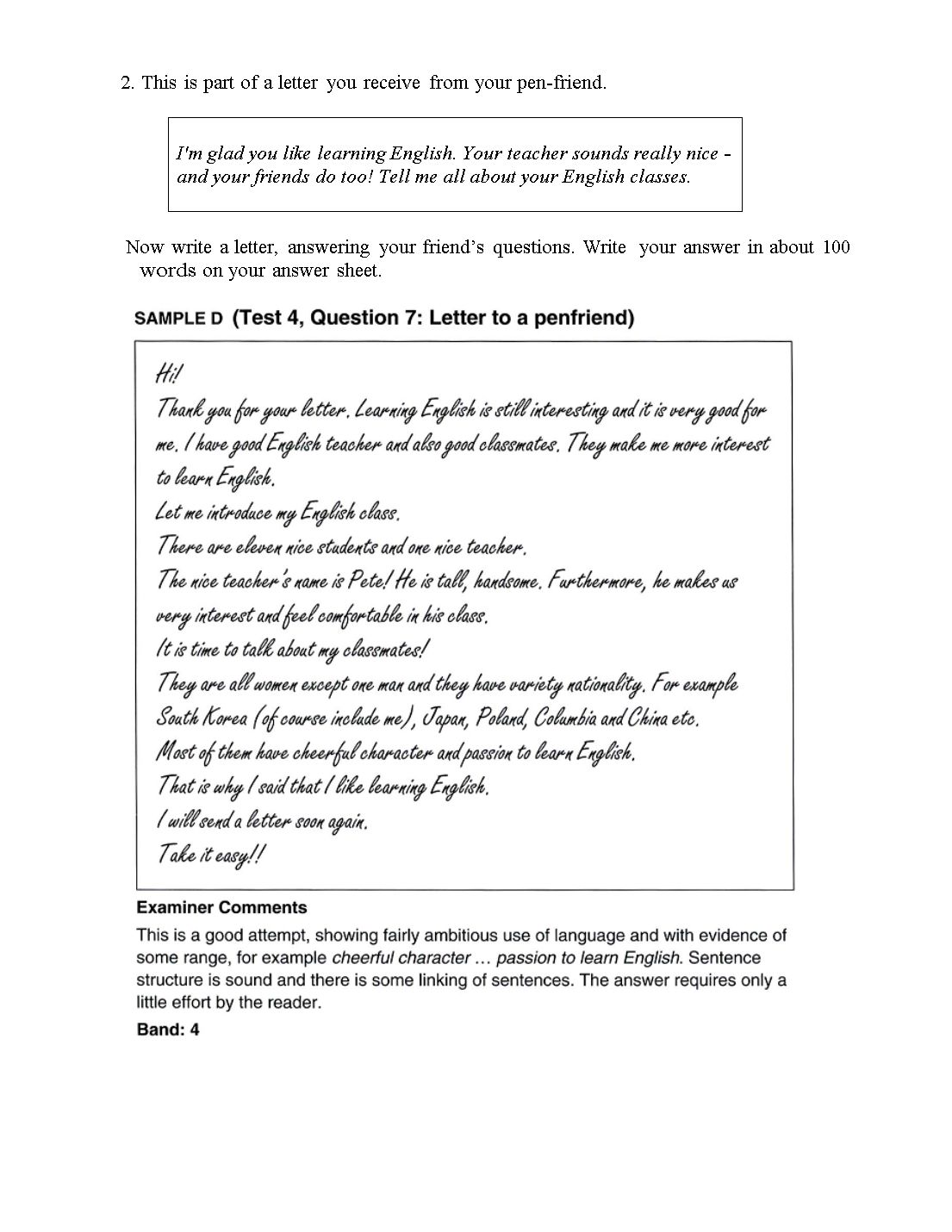 Trang 3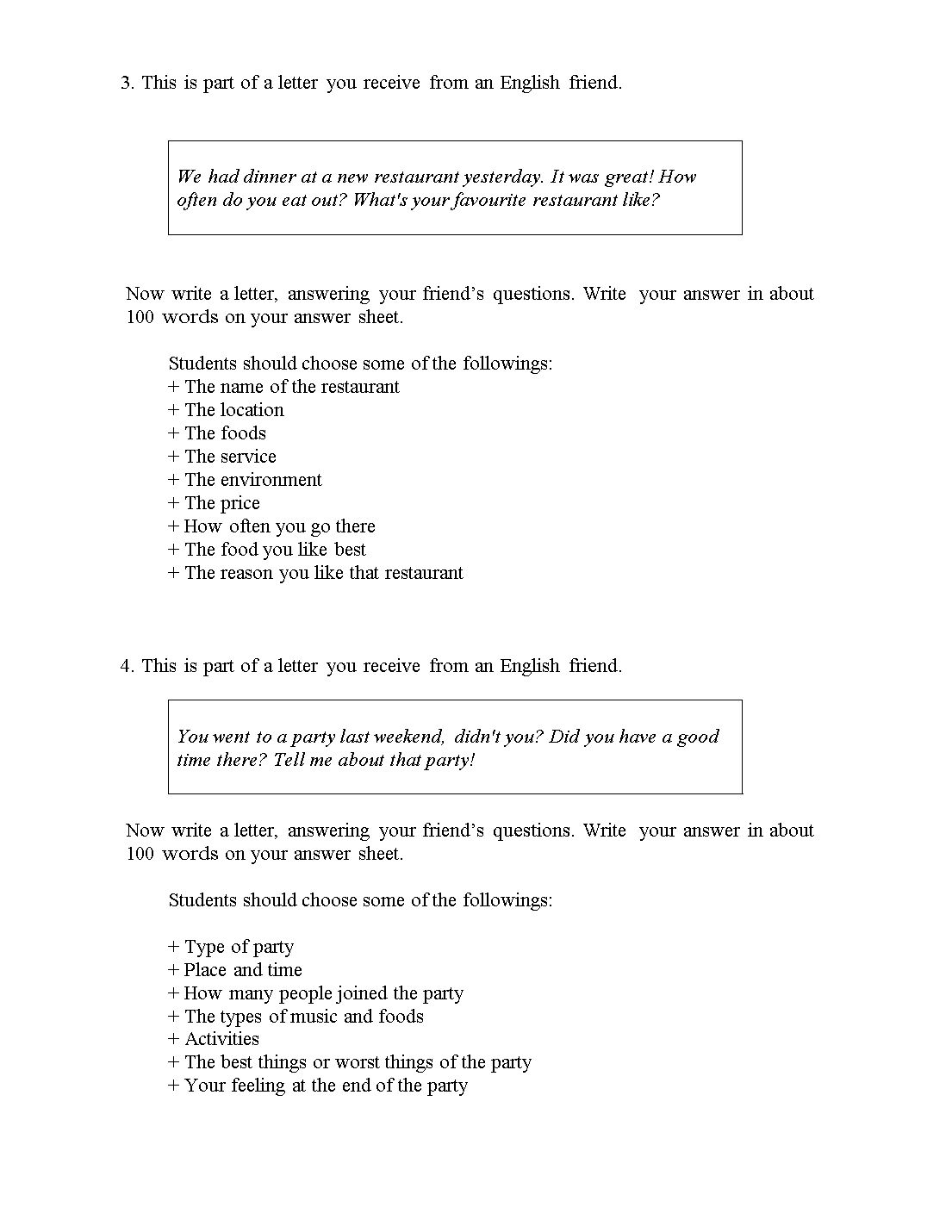 Trang 4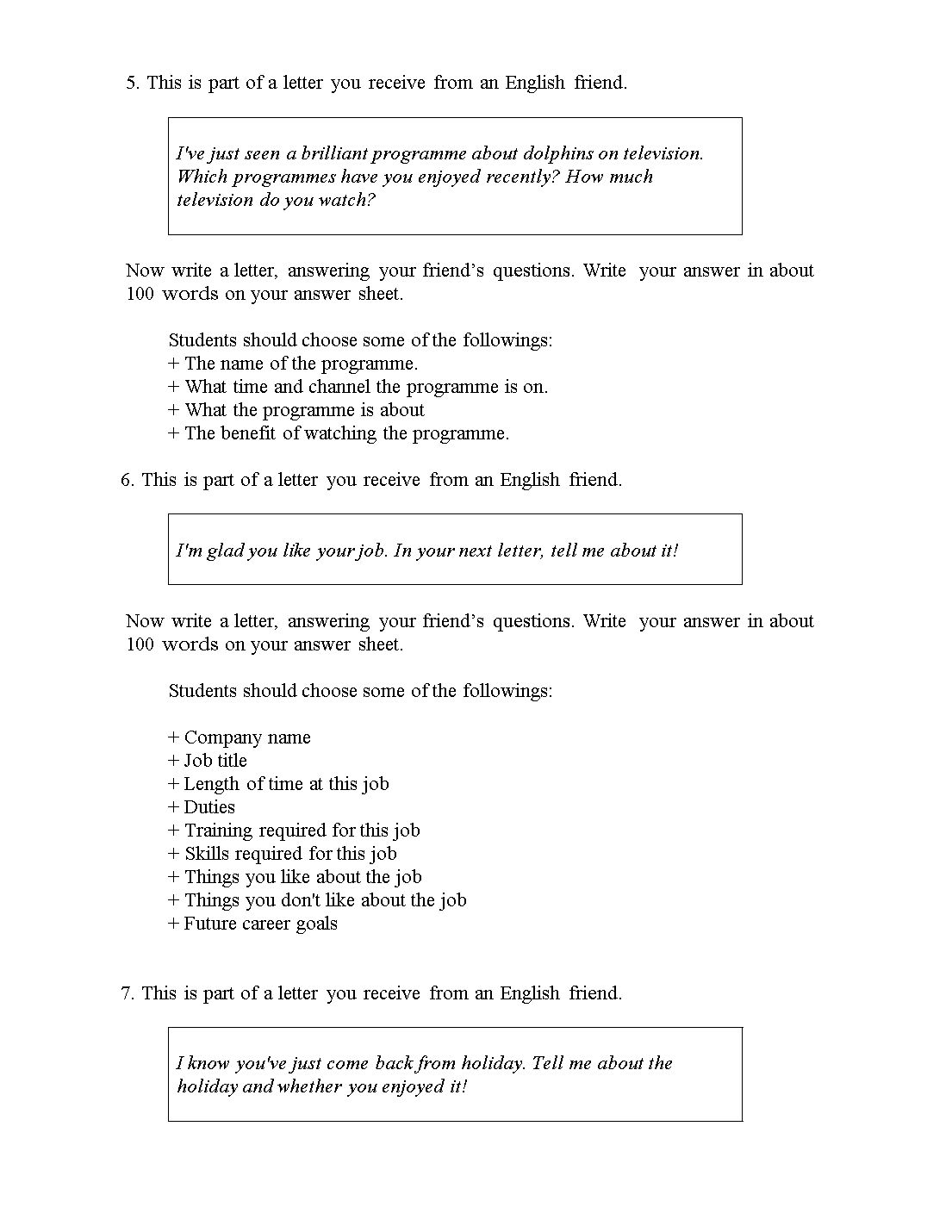 Trang 5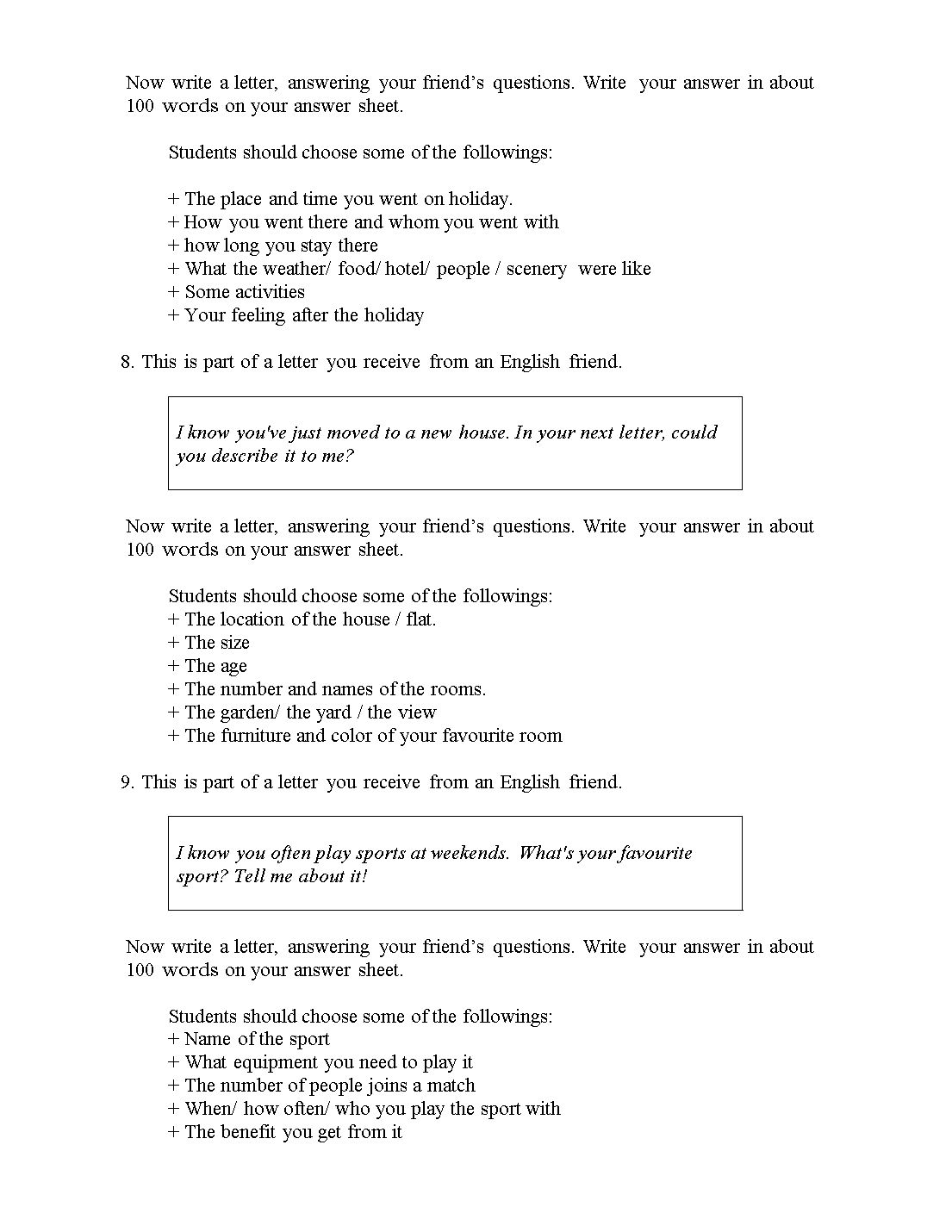 Trang 6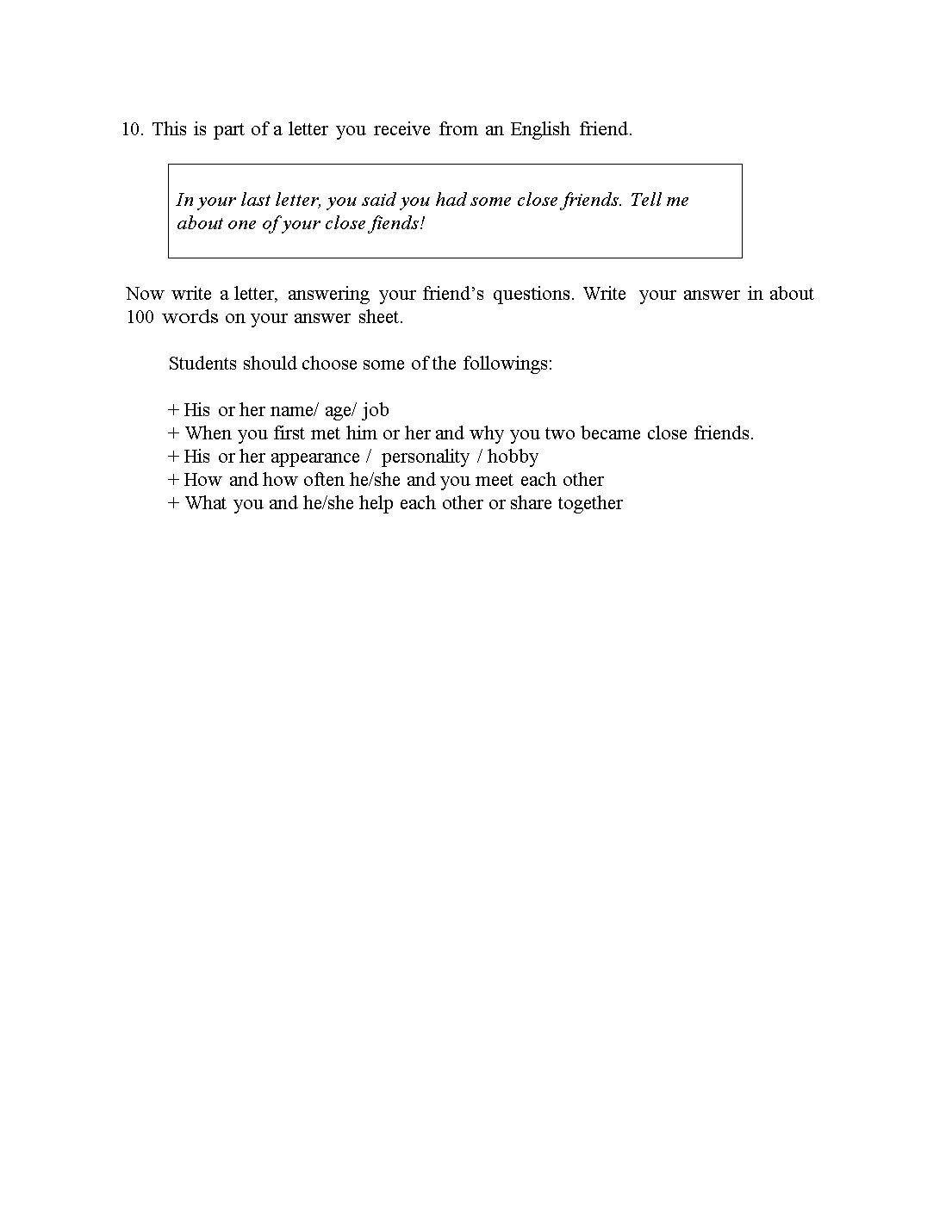 Trang 7
Bạn đang xem tài liệu "Tiếng Anh - Writing a letter", để tải tài liệu gốc về máy hãy click vào nút Download ở trên
Tóm tắt nội dung tài liệu: Tiếng Anh - Writing a letter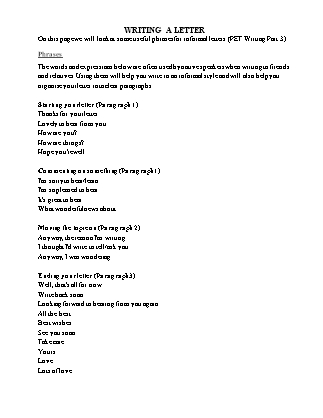 WRITING A LETTER
On this page we will look at some useful phrases for informal letters (PET Writing Part 3).
Phrases
The words and expressions below are often used by native speakers when writing to friends and relatives. Using them will help you write in an informal style and will also help you organise your letter into clear paragraphs.
Starting your letter (Paragraph 1)
Thanks for your letter. 
Lovely to hear from you. 
How are you? 
How are things? 
Hope you're well.
Commenting on something (Paragraph 1)
I'm sorry to hear/learn ... 
I'm so pleased to hear ... 
It's great to hear ... 
What wonderful news about ...
Moving the topic on (Paragraph 2)
Anyway, the reason I'm writing ... 
I thought I'd write to tell/ask you 
Anyway, I was wondering ...
Ending your letter (Paragraph 3)
Well, that's all for now 
Write back soon 
Looking forward to hearing from you again 
All the best 
Best wishes 
See you soon 
Take care 
Yours 
Love 
Lots of love 
This is part of a letter you receive from an English friend.
In your next letter, could you give me some advice? Tell me how you keep fit and healthy!
Now write a letter, answering your friend's questions. Write your answer in about
100 words on your answer sheet.
2. This is part of a letter you receive from your pen-friend.
I'm glad you like learning English. Your teacher sounds really nice - and your friends do too! Tell me all about your English classes.
Now write a letter, answering your friend's questions. Write your answer in about 100 words on your answer sheet.
3. This is part of a letter you receive from an English friend.
We had dinner at a new restaurant yesterday. It was great! How often do you eat out? What's your favourite restaurant like?
Now write a letter, answering your friend's questions. Write your answer in about
100 words on your answer sheet.
Students should choose some of the followings: 
+ The name of the restaurant
+ The location
+ The foods
+ The service
+ The environment
+ The price
+ How often you go there
+ The food you like best
+ The reason you like that restaurant
4. This is part of a letter you receive from an English friend.
You went to a party last weekend, didn't you? Did you have a good time there? Tell me about that party!
Now write a letter, answering your friend's questions. Write your answer in about
100 words on your answer sheet.
Students should choose some of the followings: 
+ Type of party
+ Place and time
+ How many people joined the party
+ The types of music and foods
+ Activities
+ The best things or worst things of the party
+ Your feeling at the end of the party
5. This is part of a letter you receive from an English friend.
I've just seen a brilliant programme about dolphins on television. Which programmes have you enjoyed recently? How much television do you watch?
Now write a letter, answering your friend's questions. Write your answer in about
100 words on your answer sheet.
Students should choose some of the followings: 
+ The name of the programme.
+ What time and channel the programme is on.
+ What the programme is about
+ The benefit of watching the programme.
6. This is part of a letter you receive from an English friend.
I'm glad you like your job. In your next letter, tell me about it!
Now write a letter, answering your friend's questions. Write your answer in about
100 words on your answer sheet.
Students should choose some of the followings: 
+ Company name
+ Job title
+ Length of time at this job
+ Duties
+ Training required for this job
+ Skills required for this job
+ Things you like about the job
+ Things you don't like about the job
+ Future career goals
7. This is part of a letter you receive from an English friend.
I know you've just come back from holiday. Tell me about the holiday and whether you enjoyed it!
Now write a letter, answering your friend's questions. Write your answer in about
100 words on your answer sheet.
Students should choose some of the followings: 
+ The place and time you went on holiday.
+ How you went there and whom you went with
+ how long you stay there
+ What the weather/ food/ hotel/ people / scenery were like
+ Some activities 
+ Your feeling after the holiday
8. This is part of a letter you receive from an English friend.
I know you've just moved to a new house. In your next letter, could you describe it to me?
Now write a letter, answering your friend's questions. Write your answer in about
100 words on your answer sheet.
Students should choose some of the followings: 
+ The location of the house / flat.
+ The size
+ The age
+ The number and names of the rooms.
+ The garden/ the yard / the view
+ The furniture and color of your favourite room
9. This is part of a letter you receive from an English friend.
I know you often play sports at weekends. What's your favourite sport? Tell me about it!
Now write a letter, answering your friend's questions. Write your answer in about
100 words on your answer sheet.
Students should choose some of the followings: 
+ Name of the sport
+ What equipment you need to play it
+ The number of people joins a match
+ When/ how often/ who you play the sport with
+ The benefit you get from it
10. This is part of a letter you receive from an English friend.
In your last letter, you said you had some close friends. Tell me about one of your close fiends!
Now write a letter, answering your friend's questions. Write your answer in about
100 words on your answer sheet.
Students should choose some of the followings: 
+ His or her name/ age/ job
+ When you first met him or her and why you two became close friends.
+ His or her appearance / personality / hobby
+ How and how often he/she and you meet each other
+ What you and he/she help each other or share together

File đính kèm:
tieng_anh_writing_a_letter.doc